Bridge-To-Africa Connection Inc. ("BTAC") is a non-profit 
501(c)(3) 
organization dedicated to the belief that healthier women and children mean stronger societies. Investments in the health and empowerment of women and children are investments in the social and economic development of the communities in which they live.
The key philosophy is: Impacting one woman will impact her entire family. The family will impact the village, thereby building the bridge to an enriching, healthy society.
You have not lived today until you have done something for someone who can never repay you.
– John Bunyan
You have not lived today until you have done something for someone who can never repay you.
– John Bunyan
Giving is not just about making a donation. It is about making a difference.
– Kathy Calvin
"When we give cheerfully and accept gratefully, everyone is blessed."
– Maya Angelou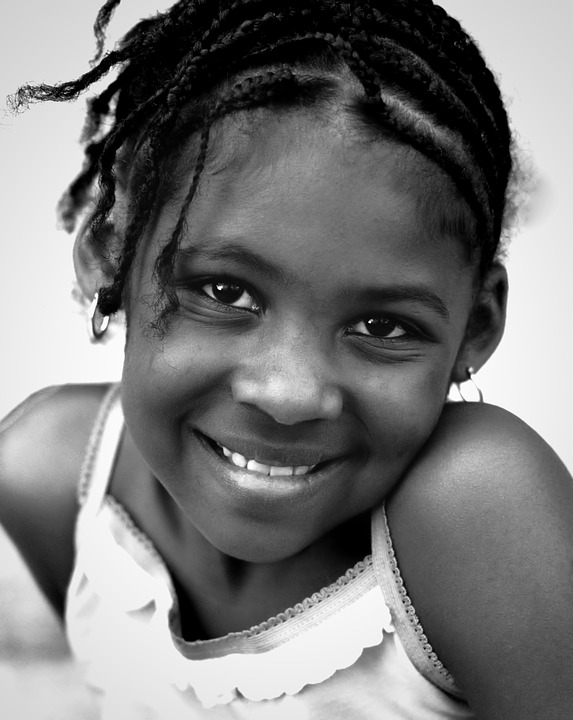 Bridge-To-Africa Connection, Inc. is a non-profit 
501(c)(3) 
organization dedicated to inspiring women and children through education and economic empowerment focused initiatives.
We believe and are passionate and committed that we will make a difference to challenge the status quo and change the life of one person at a time so that they can go to make a difference in the lives of their families and society."
BTAC EVENTS & PRESS RELEASES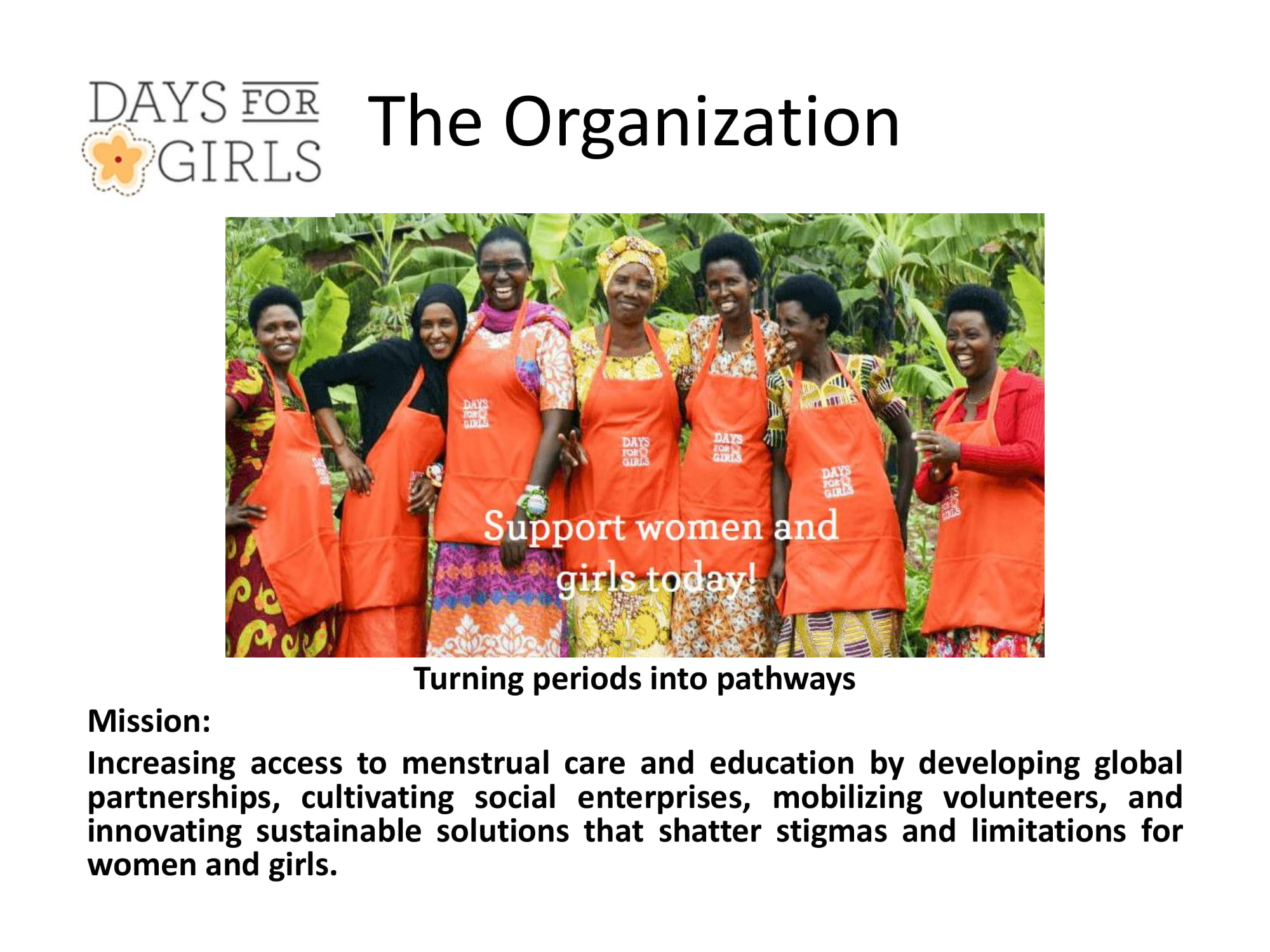 DAYS FOR GIRLS KUMASI PROJECT
Ladies, just imagine your life without the proper products during your monthly menstrual cycle, in addition, no toilet or water to wash up properly.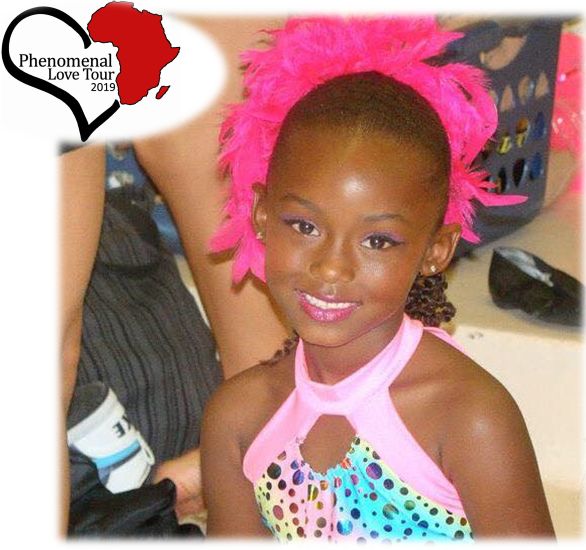 PHENOMENAL LOVE TOUR
Traveling to another country is a great way to learn more about the world surrounding us. Several Inspirational Women from diverse backgrounds will travel from the USA to Ghana on one of many mission trips to work with the BTAC Family and help change lives "One Child at a Time".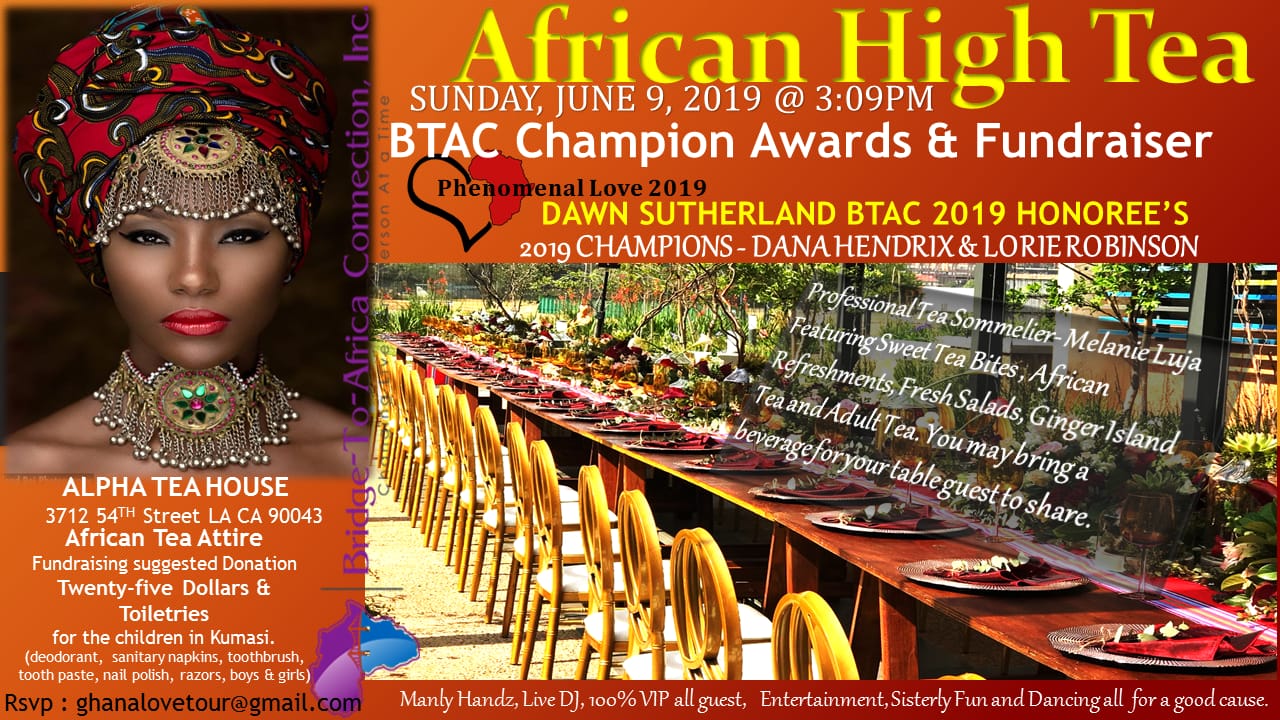 BRIDGE TO AFRICA CONNECTION
PRESENT AFRICA HIGH TEA AWARDS FUNDRAISER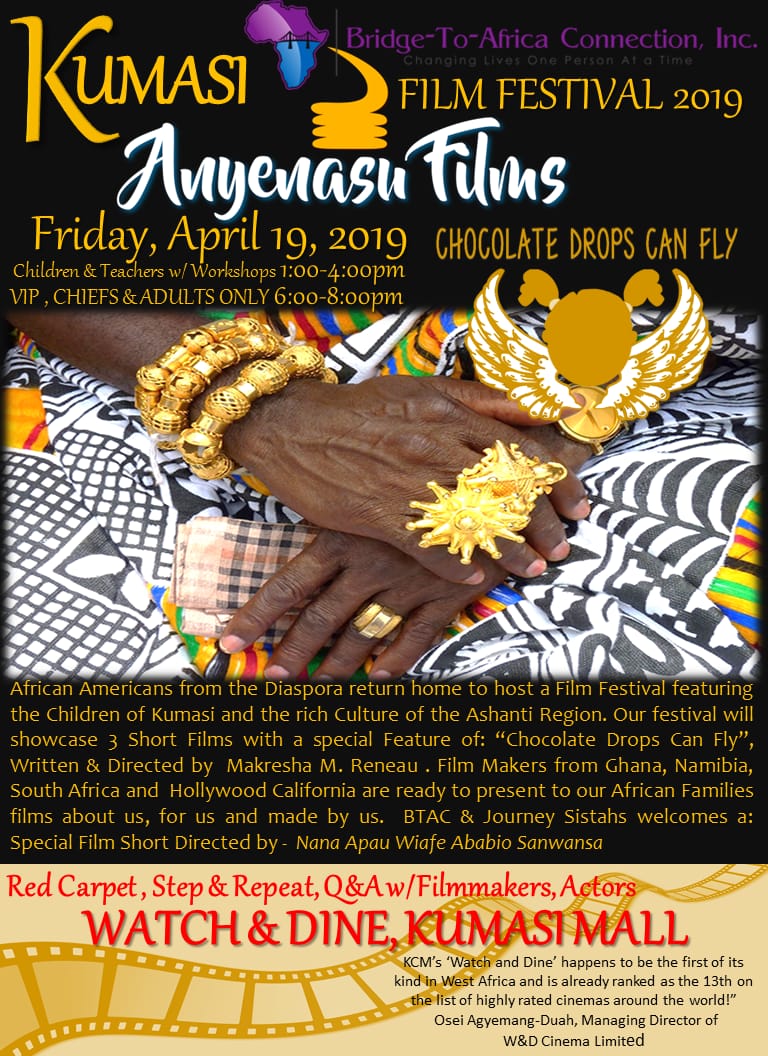 KUMASI FILM FESTIVAL : Anyenasu Films
African Americans from the Diaspora return home to host a Film Festival Featuring the Children of Kumasi and the rich culture of the Ashanti Region. Our festival will showcase 3 short Films with a special Feature of : "Chocolate Drops can Fly", Written & directed by Makresha M. Reneau. Film Makers from Ghana, Namibia, South Africa and Hollywood California are ready to present to our African Families films about us, for us and made by us.
BTAC Newsletter November 2018
What an amazing year it's been working on this special project for the Children, Schools and People of Ghana, West Africa. Our Journey started with a Vision and a lot of hard work and dedication, this small vision turned into a big reality.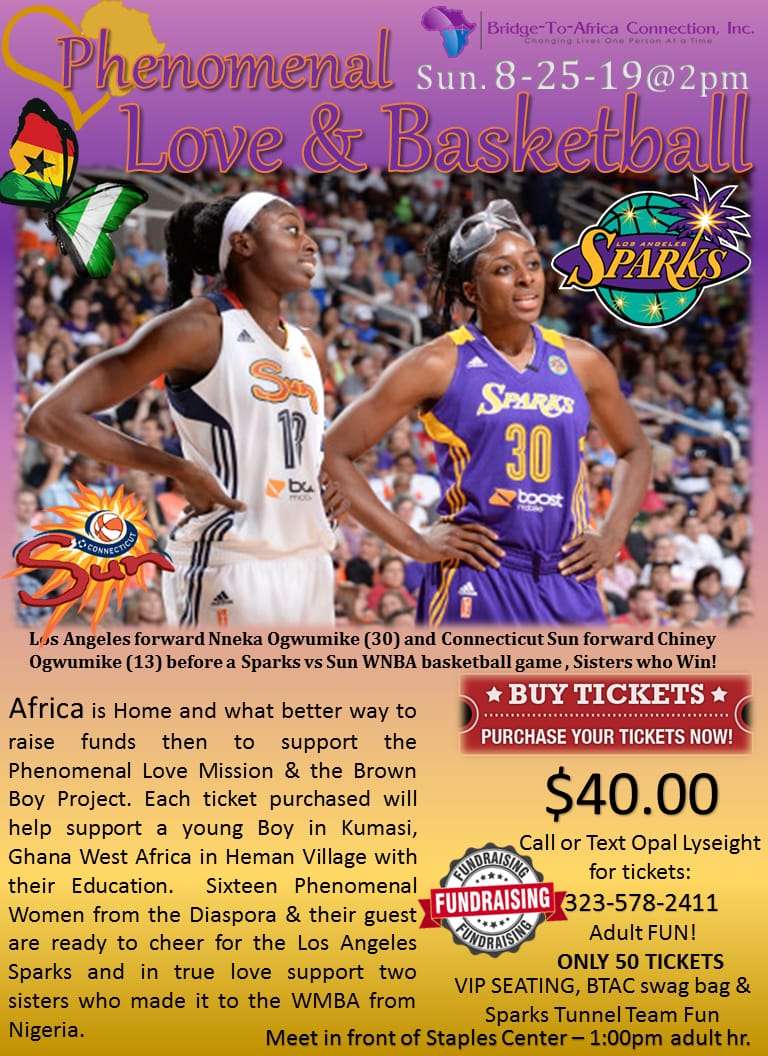 PHENOMENAL LOVE & BASKETBALL 
Africa is Home and what better way to raise funds then to support the Phenomenal Love Mission & the Brown Boy Project. Each ticket purchased will help support a young boy in Kumasi, Ghana West Africa in Heman Village with their Education.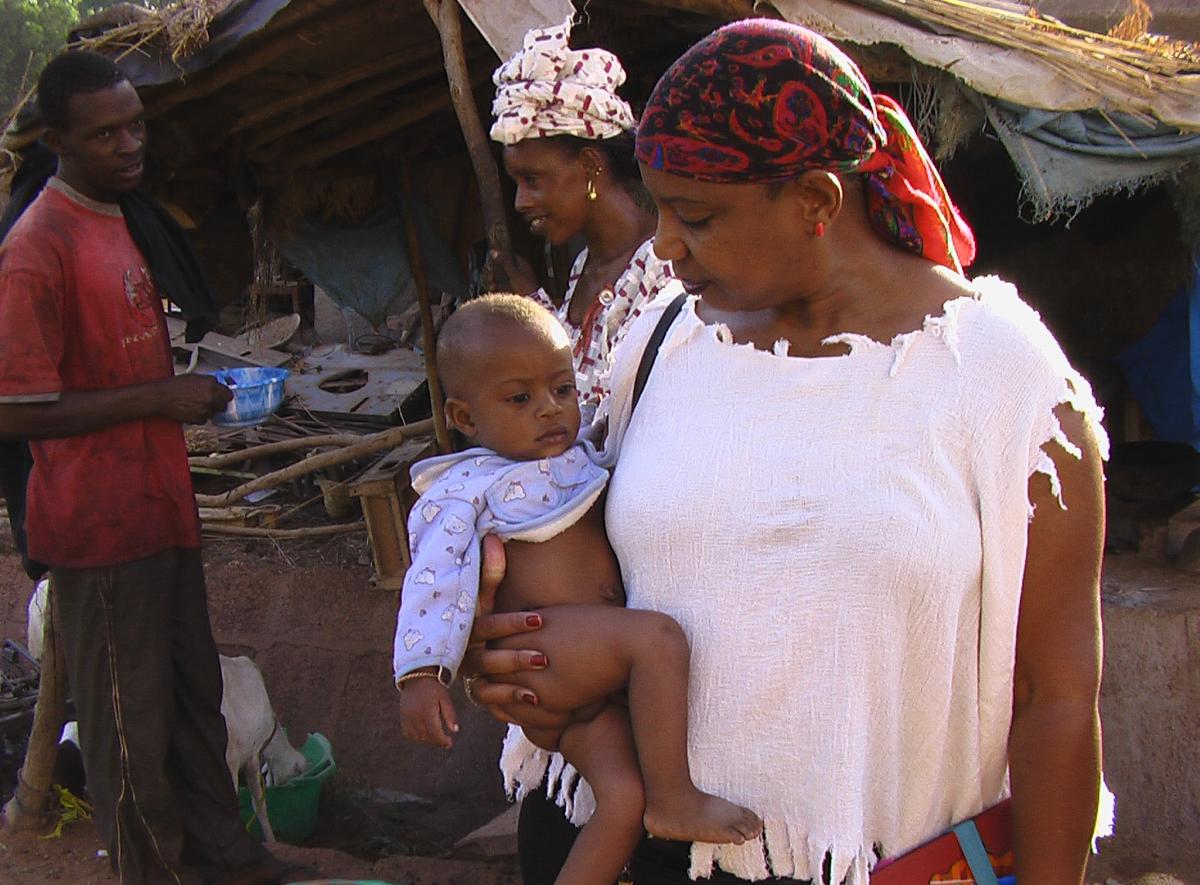 Support One Child At A Time
Popcorn and a movie for two? A pair sneaker on the discount rack? But did you know that $35 could…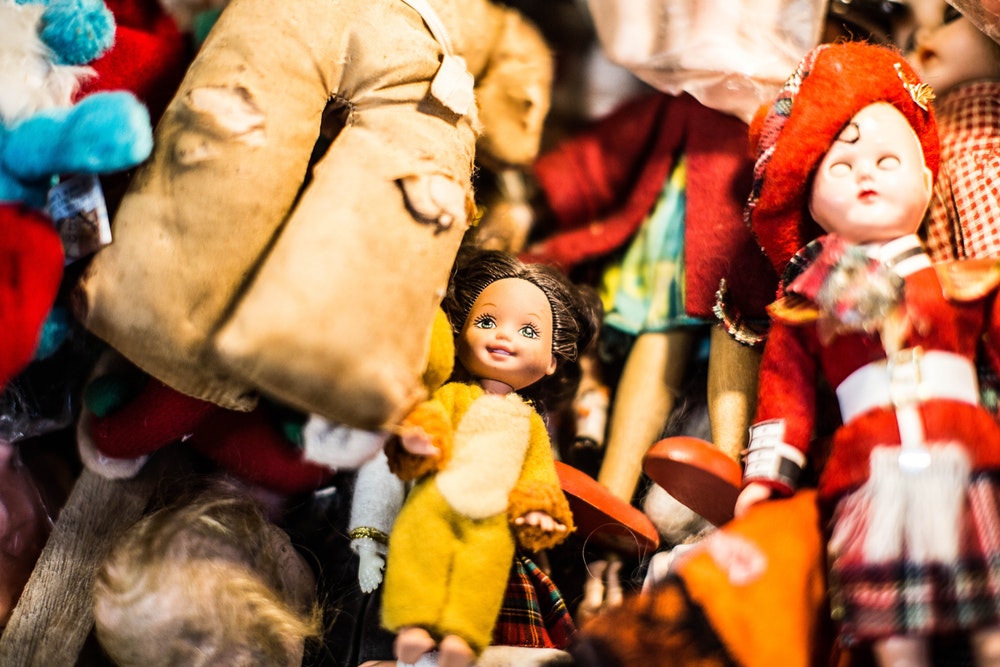 As I look to continue to make a difference in the lives of others, especially children, I want to invite you to join me on my latest...