Youngest American philanthropist made citizen of Hemang
---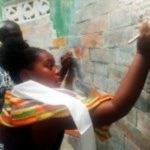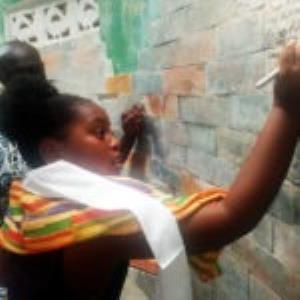 The Chief of Hemang, Nana Appau Wiafe Ababio Sanwansa, has bestowed honorary citizenship on an 11-year-old American philanthropist, Khloe Thompson, of the Khloe Kares Foundation.
The gesture follows the donation of a borehole to the Hemang Roman Catholic Primary School by the Khloe Kares Foundation, under its Khloe Kares Living Water project. It is the second borehole donated by the US-based foundation in Ghana.
At a mammoth durbar in honour of Young Khloe, Bonsu Boaten of the New York-based Ausar Ausef Society performed the rites to rename her Afia Boafoana Konto, while her mother, Alicia Thompson, was christened Akosua Kyine. Both were also made members of the Ekuona Family.
Additionally, Nana Sanwansa presented a four-acre plot of land, duly documented, to Khloe to establish any intended project at Hemang as a citizen.
Khloe and her team, including her mother, later joined the Chief and the people of Hemang to commission a Tourist Centre, where she appended her name on the wall of the Hall of Fame.
According to the Chief, all tourists who visit Ghana might as well visit Hemang and sign their names on the Wall, as having visited Ghana.
Nana Sanwansa, in the presence of Nana Osei Kwabena Onini Mpobi and Nana Yaa Antwiwaa, Chief and Queenmother of  Sekyere respectively, commended  Khloe for her philanthropic  activities back home in America, and in Ghana, and encouraged her to establish a Community Centre  at Hemang to foster healthy interactions with the Ghanaian youth.
The Hemang Chief, who was overwhelmed by the exploits of Khloe at her tender age, decreed that instead of observing Valentine's Day, the Hemang community would henceforth celebrate Afia Boafoana Konto Day (Khloe Kares Day) every February 14, to encourage young Ghanaians to make a difference as young Khloe, noting that it was time Africans added value to their innate potentials.
The Chief has given the assurance that he would specially mention Khloe to the Asantehene, Otumfuo Osei Tutu II, who he considered to be a girl with the heart of gold, and possibly arrange a meeting with the Ashanti King on her next visit to Ghana.
Nana Appau Wiafe Ababio Sanwansa ascended the Ekuona Apau and Brefo stool of Hemang in the Afigya Kwabre District as Chief on June 22, 2015, and has since brought about remarkable development to the community.
On October 8, 2017, a new palace he constructed was commissioned.
The Hemanghene has also provided a fence wall around the Royal Mausoleum situated on an acre of land.
Nana Sanwansa has also renovated a six-unit classroom block of the Roman Catholic Primary school at Hemang at the cost of GH¢60,000, as well as painted the local Junior High School.
The Chief has also presented 50 dual desks to the school to furnish the renovated block, and supplied a quantity of branded exercise books for distribution to schools in the locality.
Three years after Nana Appau Wiafe Ababio Sanwansa became Chief of Hemang, the African Heroes Foundation (AHF) International has conferred on him an honourary doctorate degree in recognition of his achievements.
Nana Sanwansa was among 13 personalities honoured at the third edition of the African Business Legends /Entrepreneurs and Traditional Rulers Awards (ABLETRA) by the AHF in Kumasi for their outstanding, dedication and contribution towards sustainable development in Ghana.
Khloe expressed surprise at the magnanimity of Nana Sanwansa and gave the assurance to continue to inspire children to be great leaders and make a difference in society.
She said owning a land in Ghana was a great honour done her by the Chief of Hemang, who also gave her an African name.
Young Khloe has also expressed happiness to know that on February 14, the Khloe Kares Foundation and her philanthropic activities would be officially celebrated.
Khloe's visit to Hemang last Sunday (November 11) formed part of a weeklong visit to Ghana, which started on November 7.
On November 10, 2018, she visited the St. Theresa Catholic Church at Atasemanso in Kumasi, where she educated girls and women on health and income generation opportunities.
She also interacted with pupils of the State Experimental M/A Basic I at Nhyiaeso in Kumasi, and also visited the site of her first borehole and toilet facility at New Kokobiriko D/A Primary School at Abidjan Nkwanta in the Bosomtwe District on November 12.
Khloe, who started her philanthropic deeds at age 8 by founding the Khloe Kares Foundation, a charity organisation in 2015, has since last Friday left for her California base in the USA.