The Burial of Kojo to screen at Kumasi Film Festival this Easter
---
The award winning Ghanaian film 'The Burial of Kojo' will screen on Easter Saturday, 20th April at 4:30pm.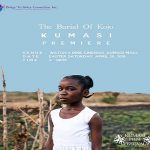 The film is written, and directed by Blitz Bazawule, and stars Ama K. Abebrese and newcomer Cynthia Dankwa who will be present at the screening in Kumasi. 
The film is co-produced by Ama K. Abebrese and Kwaku Obeng Boateng. The film won best Narrative at Urban Film Festival in New York and Luxor African Film Festival, Egypt.
The first edition of the Kumasi Film Festival is organized by Bridge to Africa Connection a USA Non-Profit 501©3 under the direction of Madam Dawn Sutherland.
It takes place at the Kumasi Mall inside the Watch & Dine Theatre. This Festival will showcase films from the Diaspora, Hollywood California, Namibia, South Africa and Ghana. 
Kumasi Film Festival was inspired by the Children of Kumasi and the Sunday Morning Girls & Kumasi Ashay Club. 
Other featured films being shown at the Festival include Joe Vision Products Films on "Film Making in Namibia and Government however, "Chocolate Drops Can Fly", is the catalyst that bridges them all. 
"Chocolate Drops Can Fly ", is a Short Film by Makresha M. Reneau written in Choreo-poem format (writing style inspired by Ntozke Shanges'For Colored Girls Who Have Considered Suicide When the Rainbow is Enuf'). 
Chocolate Drops Can Fly takes you on a cultural journey through the Ashanti Region and the impact that self-determination and pride has on young children. 
The film uses the rich culture of the Akan people to discuss topics like: Self-esteem, and how to fight through unwavering circumstances. 
It shows the resilience and growth of children who are given a voice and a chance to move in their natural gifts. 
The short also features Women from the Diaspora discussing their experience in Africa and how they can make a difference to enhance the lives of Children so that they can teach their village and peers how to move in excellence and have self-confidence. 
The media and the general public are invited to come out and celebrate the first Kumasi Film Festival.