Boston College – 1977 – Operation Crossroads – Ghana, Africa
---
I distinctly remember the day that a family friend dropped me off at Rutgers University, excited to be on my way to do good, in Africa!
I spent eight weeks in the Volta Region of Ghana (traveled to Togo and Nigeria) with 20 students and our assignment was to build a school, educate the children and dig wells.
Eye Opening Experience –
While working shoulder-to-shoulder, daily, building a new school for the children in the Upper Volta Region of Ghana, to my surprise, I really got angry. Angry because there were a sea of Anglo-Saxton people, diligently working to build a school for African people. For some reason, I had a different perception of Anglo-Saxons (Grave robbers, Selfish, Self Serving, Colonizers that travel the globe claiming land that was not theirs, allowing the definition of "Manifest Destiny" be their guide. Throughout the duration of the Operation Crossroads Africa, I saw Anglo-Saxon people, working very diligently, day in and day out, to build a better, brighter future for African children. From my observation, I noticed a sincere commitment to a common cause. Everyone seemed to be on a positive note;
we ate breakfast, lunch and dinner together, discussing all of the untold possibilities ahead for the children that matriculate through this school. After a while, the anger that I felt in my bones and in my soul, dissipated. You see, these Anglo-Saxons just became people; Fellow human beings, working in unison to create a place where children can go to learn. That is heavy! These people had volunteered to work for 8 weeks, in Africa for a better cause. They were digging wells, building schools and teaching the children. I was truly thankful that these people saw the need, saw the urgency, to not just sit around and talk about it. They went about the business of taking care of business, building up Mother Africa, attempting to provide restitution, making Her (Africa) whole.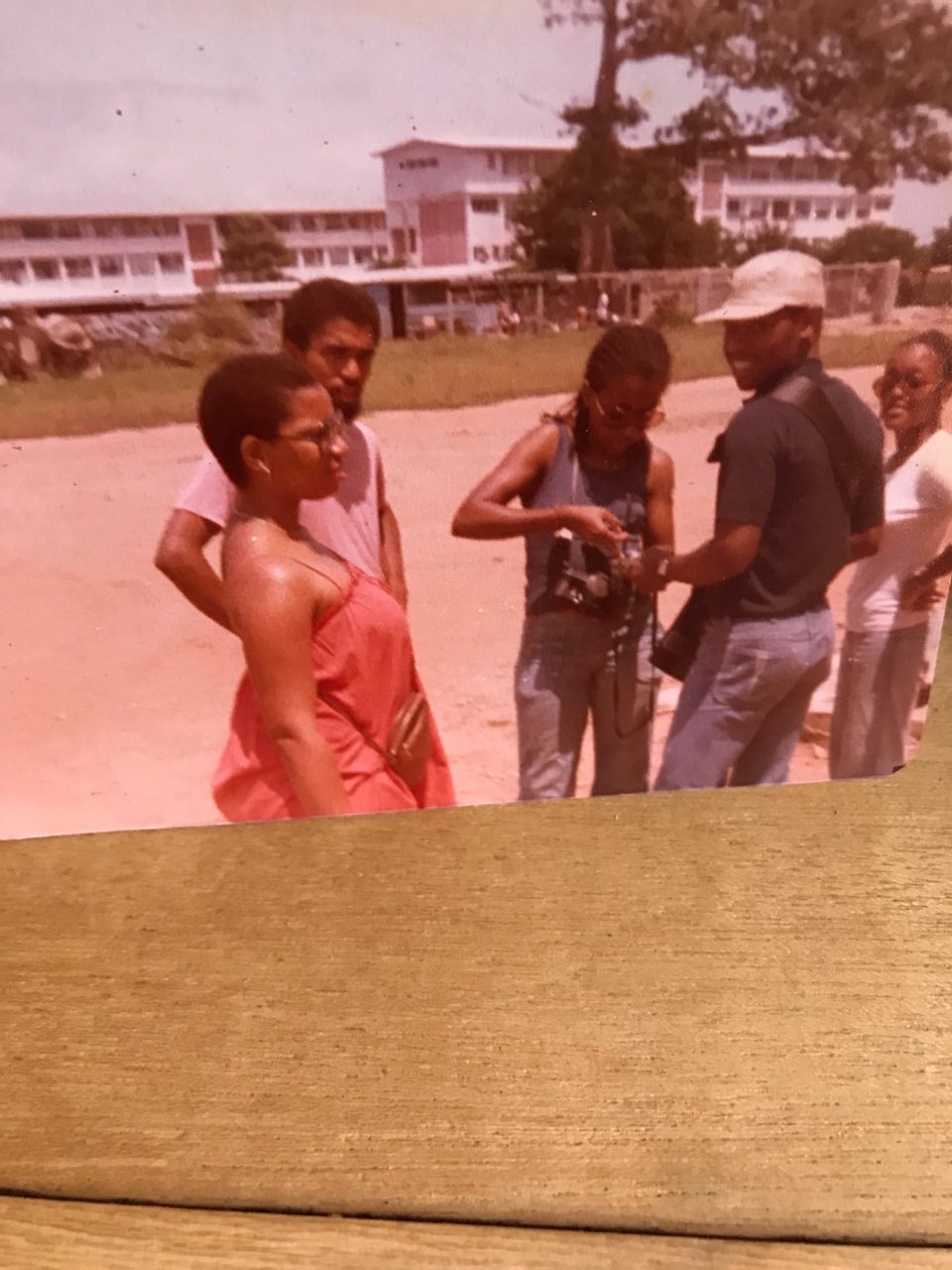 Where Are Our People?
Perhaps at this point and junction in my life, I had unanswered questions regarding the project that we were working on as it relates to black people. Questions such as, why was there a disproportionate amount of black people here in Africa, building schools for African children? What was their motivation? Where are the black people from the diaspora? Why weren't they there, building a school for our children? Why were there only three of us representing? – Yes, three of us – Reggie, Retina and Dawn (Moi). #Lifetime Friends
The Power of Words – A Mother's Wisdom –
I was so motivated and inspired by the entire 8-week experience! When I touched down on USA soil (JFK Airport) I was so happy! I felt so energized! I just knew that volunteering to work in Ghana, Africa is what my life's volition will be. After all, words have power. So when I got home, I ran and embraced my Mother, so utterly happy to see her! I missed her dearly! She sat and listened patiently as I painted visual pictures of my journey. My Mother was overjoyed to know that I had such a positive experience, and completely understood my feelings. She even understood my need to return to Ghana, to volunteer.
My Mother allowed me to complete my thoughts, dreams and aspirations regarding Ghana.
She just could see that I was passionate about building Ghana, BUT, my Mother could not – I repeat – could not, and did not co-sign to the idea that I needed to return to Ghana as soon as possible!
She then said, with loving eyes and her unforgettable mellifluous voice,
"Dawn, I can see that you love Ghana. It is deeply in your heart. Let me tell you, it sounds wonderful baby. Just remember, you MUST complete your education. For several reasons;
1) Education is the key to a better job.
2) You like nice things, and love to shop, and how on earth are you going to get the things that you want in life if you don't complete your education and get a job?" #Reality Check
Oh, without a doubt, I listened to my Mother, the voice of logic and reasoning, and graduated with honors, from Boston College and went on to graduate school at Clark Atlanta University.
The African Diaspora Represented @ Atlanta Clark University
While studying at Clark Atlanta University, I got a chance to meet so many Africans from the Diaspora, at the Atlanta University Complex, it was wonderful! There was no shortage of African men on the campus. I mean, brothers were coming at me from all directions, and it was very very interesting! The African brothers were eager to marry, but didn't seem to share the same passion that I had of marrying and going to live/work in Africa. No, no – these brothers from the Continent wanted to get married and stay in America! That didn't seem to fit into what it is that I was interested in. Although I never accepted the proposals of my many Royal suitors (sorry, my African Kings! – perhaps I'll see you next lifetime!)
I was so eager to learn more about Africa and its people, and I was able to make so many new friends and build a great network, listening to the foreign exchange students, and becoming more knowledgeable regarding Africa.
Africa Is In My Soul
After completing Graduate school; I traveled extensively through the African Continent – North (Algeria, Egypt, Tunisia) East (Congo, Kenya,
Mali, Tanzania), South (South Africa – Cape Town, Pretoria, Robben Island) and West (Benin, Burkina Faso, Côte d'Ivoire, Nigeria, Senegal, Sierra Leone and Togo.) Throughout the years, every time that I had accrued holiday time, I would share my thoughts regarding how to best assist the children in the various villages that I would visit, with my fellow co-workers. My co-workers would consistently donate school and art supplies for me to take to the school children in the remote villages that I'd visit in Africa – it was such a beautiful thing! You see, Africa is in my heart, and when I'd look into the eyes of the children, all I could think of was how to make ensure that they see the importance of education, and I would spend quality time with the children, making sure that they had a positive experience as well.
When I first had the vision to fulfill my desire to give back to Africa, I knew that it was a matter of time before I move closer to my goal.
Career In Full Swing
After Graduate School, being an A-Alpha type personality, I became so grounded in my career that I had developed a rhythm and was in full pursuit of breaking the glass ceiling in corporate America. I started as an Intern at XEROX Corporation working my way up the ladder, working in the USA and United Kingdom and then back to the USA. I retired after 32 years, as Vice-President Finance for the Western USA. When I started working for Xerox I did not even know how to drive a car! Living in New York, I took public transportation; my mother told me that a car was not a priority, education was, and in fact education would take me to the highest heights. I started my career at Xerox as a Financial Analyst with the intention of working in Corporate America and then leaving to go work in the government social services so that I can help change the bureaucracy in the system. I did well at Xerox and when I told my manager I wanted to leave Rochester, New York, he told me that I was a "high potential" and was placed on the fast track. I moved from Rochester, New York to Chicago, Illinois where I became the Controller for the Oakbrook Manufacturing Plant. I did very well in that assignment and took the business to new heights. As a reward I was promoted and was the first black person to be sent on expatriate assignment to England.
My assignment on the EC92 project was rewarding and the best professional learning and development experience during my career. I travelled Europe and Africa during my four years stay in England. I moved to Los Angeles in 1994 from England; I had no intention of staying in California but the weather got me! I was the Controller for the Century City Xerox Branch and as we right sized and merged operations, I took over all of Southern California, then added Las Vegas and eventually because the Vice President of Finance for the entire Western United States. Xerox is a great supporter of the community, and they supported all my Community involvement throughout the United States. During my 20-year tenure on the West Coast of Xerox, the Xerox community supported my passion for helping to improve lives in Africa; during my trips to Africa, my Xerox family donated school and art supplies to take to the children of Africa. Xerox is part of my fabric and I would not be able to live this dream if I did not have the support of Xerox and had the opportunity to have an awesome 32-year career at this great company.
Putting Things Into Proper Perspective
In 2006 I mentioned to 6 of my friends that I wanted to go to all my favorite countries and make a decision where in Africa I'd like to make my home.
Clearly, since 1997, I knew that I wanted to make sure that Africa would continue to play an integral part of my life.
So in 2006, six of my friends and I took a trip to Senegal, Mali and Timbuktu. It was while I was in Timbuktu that I had an Epiphany; I asked God to help to direct my life so that I can use it to be of service. We were in the midst of our group intention sessions; I realized that I've been blessed to accomplish so much in my life, and yet there is still so much that needs to be done to help others. God is Good.
Prayers Can Move Mountains
While in Timbuktu, I realized that I had finally done all that I wanted to do on this earth, and truly asked God to help direct my steps.
I had chartered the course of my life (my A Type personality!) and realized that when the time came, I would retire and get on the ball regarding my dream of living in Africa, assisting others when I can. The question was, how on earth will I know where to land in Africa?
As fate will have it, four of my friends who had taken the trip to Senegal, Mali and Timbuktu had returned to the USA, and three of us decided to continue on to Ghana. Once we touched ground, landing in Ghana,
I knew that I was home. I told my chosen Ghanaian family that I would be moving to Ghana when I retired, and my first thoughts were to purchase a parcel of land, and build a home from the ground up. While traveling throughout Ghana, I saw the good, the bad and the ugly regarding many unfitted homes all over the place, and I decided that the best route to take would be to purchase a home that was already built. I distinctly remember my Ghanaian brother telling me that finding a place during this trip was impossible, and that I would have to come back to Ghana, and spend a good month searching for a home. I thought to myself, "Is he serious?"
I said, "Brother, I work in corporate America, and do not have the leisure of one month to return to find a home! If it's going to happen, it would have to happen during this trip!" He said, "Impossible!" As my brother left the house to spend the afternoon playing golf, I realized that he had no idea that I believed that prayers can move mountains. I truly believed that what God has in store for me, no one can change it. If it is God's Will, I will find a house in Ghana during this visit. So I prayed.
A few hours later, my brother returned home from golfing, and said,
"You are the luckiest person on Earth! While I was on the Golf range, I ran into a friend who is selling his house, and would like to show you the house. "I got up, got ready, and asked my two friends who were traveling with me, "Ladies, do you want to go see the house with me?" One said,
"I'm resting. You are not going to like the house, so I'm not going."
My other friend, Pam went with me. I tell you, when they opened the gate to the home, it felt magical! The house and the grounds were so beautiful! My friend Pam said, "This is just like your house in Los Angeles! If you don't buy it, I will – and I don't even have plans to move to Ghana!" I was in awe; Only God could plan for me something so beautiful, placing me in on the right path, leading me to my future home in Ghana. You see, I know that prayers can move mountains. God knew what was in my heart, and provided me a beautiful place that I can call home, in the Motherland.
HE knows that I want to move to Ghana and help those who need to know that if we work together, towards a common goal, all things are possible!

Ghana 360
I was so touched by the people and felt the beauty of the country and the people, when I first visited Ghana in 1977, as a volunteer with Operation Crossroads Africa. It was my sophomore year, and I got a chance to work with a group of 20 people, who shared a common goal; to build wells for water and build a school and educate the children. These goals would enrich the lives of so many people. The experience certainly enriched my life.
My main objective is to do what I can do to help one person at a time. I'm not trying to change the world, no. I am starting with, as Michael Jackson and Siedah Garrett's song, "Man in the Mirror" says, I'm starting with myself, moving to Ghana to make that change, by sharing 30+ years of experience, helping to improve the well-being of others. I want to help the business community take their business to the next level, empowering the women in the villages, educating them, showing them that they can make it. Leading by example, working with Africans around the diaspora, showing the local people that they have alternatives and can help create change in Africa.
My home will be an Oasis for my Arts and for my spiritual well being.
I am convinced that God orders my steps, and I am answering to a higher calling to go and share my gifts with my fellow Ghanaians.
"Africa is in my Soul, and the people of Ghana – Their souls were so beautiful, and I am truly, forever changed."