Ancestral roots: Fifty African-Americans visit Oba of Benin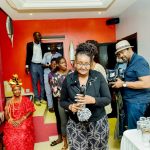 About 50 African-American tourists visited the palace of the Oba of Benin, His Royal Majesty, Omo n'Oba n'Edo, Uku Akpolokpolo, Ewuare II, during a trip to the Edo State capital to trace their ancestral roots.
The Benin monarch expressed joy that many African-Americans were doing well in their respective fields of endeavour.
The visitors were led to the palace by the Edo State Commissioner for Arts, Culture, Tourism and Diaspora Affairs, Osemwengie Ero.
The Monarch said he was proud of African-Americans like Martin Luther King, Jesse Jackson, Malcom X and the first African-American President of America, Barack Obama.
He expressed satisfaction with the group for their decision to trace their ancestral home after the abolition of the slave trade.
Oba Ewuare ll told his guests that as a student in New Jersey in America, he had a first-hand experience of what racism, oppression and deprivation were and thanked God that they all survived the ordeal.
He however described as unfortunate that modern-day human slavery in the form of human trafficking and prostitution were still going on in the world today.
He, therefore, charged the African-American group to collaborate with Oba Ewuare II Foundation in its determined effort to eradicate the scourge from the society.
The tourists, who arrived Benin from California, United States of America were entertained by the Benin Cultural Troupe and treated to delicious local African dishes, including palm nut fruits (Banga) soup, blended vegetable (black) soup, Owoh soup, pounded yam and Agidi (corn cake) among others.
A representative of Jemi Alade, organisers of the tour, Mr. Andy Ehanire, in an interview with journalists, said the Americans were on a rediscovery visit to trace their route.
He added, "They are coming on a pilgrimage to rediscover the home of their ancestors from where they were taken away more than 400 years ago. It is an emotional visit."
Reacting, the leader of the African-Americans​, Betty Arnold, said they were very happy to re-establish a link with the people of Benin Kingdom.
She added that they were also in Benin to learn about their cultural heritage, as some of them have been able to trace their ancestry to Benin through DNA analysis.
Source:https://punchng.com/ancestral-roots-fifty-african-americans-visit-oba-of-benin/amp/