American Philanthropist Makresha Reneau  Opens Up Her Heart To Ghana  With Her 14 Journey Sistahs
---
A memorable and well planned mission from the United States to Ghana by the very intelligent and beautiful sisters of colour led by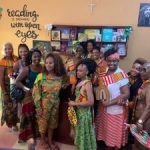 Marketing and Communication expert Makresha McFashion Reneau has left an indelible mark on the hearts of school children in Hemang and Atasomanso in the Ashanti Region of Ghana.
After a tour around Accra and the slave dungeon in Cape Coast, the ebullient Makresha Reneau and her team headed to the Ashanti Region to commission her refurbished pre-financed Primary and Junior High School projects in Hemang to a rousing welcome.
 Makresha and her team returned to Kumasi to commission a state of the art library and some other important projects at Atasomanso.They gave away lots of undergarments, shoes and toiletries as well. While at Hemang, the traditional re-naming custom was carried out for all the members of her team under the supervision of the Hemanghene Nana Wiafe Apau Sawansa who held a large durbar for them.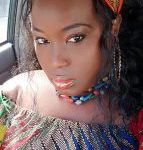 On the November 29th Makresha passed through FOX FM's feisty evening drive time show dubbed FOX RUSH HOUR hosted by the effervescent Lovin' C. She was accompanied by Cheri Cofer Tutt, Melanie Luja and Dorekia Lilly from the United States.
They delivered a powerful LIVE Rap performance together with some Poetic recitals with another colleague who called in from the US to the admiration of listeners of the Show.
The amiable Makresha Reneau who was on her second trip to Ghana for charity, drew the attention of the authorities to some of the bad roads connecting the cities and reiterated that they shoul be fixed immediately.
She also pleaded with the authorities to check the poor sanitation situation in the country in order to attract more tourists and investors.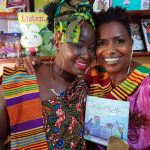 The fully-packed trip which commenced on November 23rd and ended on December 3rd, was hosted by another well-established American Philanthropist Dawn Sutherland who has picked up the challenge to bridge the gap between the people of colour in the United States and Africa.
Source :foxfmonline.com/Ayisah Foster