11 -Year old American Philanthropist Khloe Thompson Breathes Life Into Two Primary Schools In Ghana 

Within a period of 18 months, America's youngest Philanthropist Khloe Thompson from Los Angeles California has braced the odds and made that long trip to Ghana twice, to show love by giving kids of her age, access to clean drinking water.
The ebullient and genial Khloe who does not see age as a barrier towards spreading compassion, has sunk two boreholes and fixed water pumps for two primary schools in the Ashanti Region.
18 months ago she sunk the first one at New Kokobiriko D/A Primary School in Abidjan Nkwanta, a Village next to Feyiase.
Last Sunday 11th November 2018, while the world was celebrating the 100 anniversary of the signing of the Armistice to end the First World War, Khloe cut the ribbon to commission the second borehole under the KHLOE KARES LIVING WATER PROJECT at the Heman R/C Primary School in Kwabre- Heman aided by their sociable Traditional Chief Nana Appau Wiafe Ababio Sawansa who is the Hemanhene.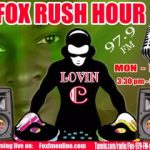 Speaking to Broadcasting Mogul Lovin' C on Kumasi's most vibrant evening drive time show FOX RUSH HOUR, Khloe who received a rousing welcome at Heman with all the pomp and pageantry of Asante culture said she had lots of fun and had to pick her steps quickly to move in tandem with the fast rhythmic traditional "adowa" dance and drum pattern.
She said her major motivation for choosing Ghana for her projects was fellow American Philanthropist Dawn Sutherland who has also built hospitals, schools and raised children while paying for their school fees in her community in Kumasi.
On her 3-day trip to Kumasi, she spoke to over 3000 children including those at STATE EXPERIMENTAL SCHOOL  in Nhyiaeso and challenged kids of her age to be confident and break new grounds and avoid stereotypes.
Having travelled across Accra, Ho and Kumasi on her current trip, she told Lovin' C that she cited pollution as a major problem in the cities and promised to help Ghana rid itself of the canker on her next trip.
Source :foxfmonline.com /Ayisah Foster